BAJAN FOLK SONGS TO REACH THE WORLD WIDE WEB
The National Cultural Foundation (NCF) and 1688 Dingolay Inc, the not-for-profit arm of 1688 Collective partnered to create six lyric videos from an mp3 album featuring nursery rhymes and Barbadian folk songs.
The videos were animated by Reeka-Lyn Selman of the Selman Group and feature the voices of Barbadian children Aziza Butcher, Zenobia Walcott, Darian Forde and Leilani Forde; directed by vocal teacher and former Junior Monarch Aisha 'Mandisa' Butcher; mixed, arranged and mastered by Dr. Stefan Walcott and recorded by Canefield Studio.
1688 Dingolay's Inc. Director, Dr. Stefan Walcott stated," The 1688 Dingolay Kidz YouTube Video project was created in response to the absence of Caribbean content geared to children. We chose to start with Bajan folk songs as recordings of these are in short supply. 1688 Dingolay Kidz YouTube, therefore, tries to solve two problems:
the lack of Caribbean children's content
the lack of adequately produced recordings of Bajan folk songs
We are thankful to the National Cultural Foundation for its tremendous support in our first venture as a non-profit institution. We hope that this public-NGO partnership will continue to serve the children and people of Barbados and the wider Caribbean."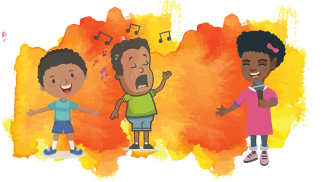 At this time, with all Barbadian and Caribbean children out of school, it is crucial to produce and make public content that reflects a cultural perspective. Last year the NCF produced a Crop Over colouring and activity book featuring many of our Barbadian folk characters, and this project with 1688 Dingolay is a continuation of the role of the Foundation to create, educate and entertain persons on Barbadian culture and heritage.
NCF's CEO, Carol Roberts-Reifer indicated, "Today many changes have taken place in the methods of education. Traditional methods of teaching are becoming relics of a pre-technological era. The use of television and computers are increasingly being used to educate and entertain children and we need to continuously adapt our methods and meet them where they are. These Bajan Folk lyric videos were created with straightforward, colourful graphics to grab the attention of children so they can sing along to music indigenous to us.
All the videos will be placed on the NCF's online platforms and shared with various media houses and the Ministry of Education, Technological and Vocational Training.
Click the image to view John Belly Mama